CERTEX Danmark A/S is your consulting partner
---
We are your consulting partner in large and small lifting projects and optimizations both onshore and offshore. We always focus on quality, safety and low costs when consulting on assignments.
Our consulting services include:
Risk assessment
Lifting plans
Method description
Weight optimization
Custom solutions and equipment
Lifting equipment (rent or buy)
Project management
Certification

We are specialized in designing lifting equipment
---
Our technical department - also called our Solution Center, is specialized in designing lifting equipment - this applies to everything from small simple lifting beams to large, complex lifting equipment with mechanical functions. The development takes place in close cooperation with our customers.
Our production unit manufactures the specially designed lifting products. In the production unit our most qualified welders work with a license certificate in accordance to the European standard EN 287. We also have a wide network of subcontractors who provide us with mechanically processed parts and standard components. We only work with welding subcontractors certified according to ISO 3834-2 (quality requirements for fusion welding of metallic materials - comprehensive quality requirements)..
When you receive your lifting gear, it is CE-marked with full documentation. The final approval is given after a test load has been carried out. We perform test load up to 1,200 tons at our own premises. Heavier test loads are performed in cooperation with our external partners.
More than 35 years of experience in developing customized solutions
In-house engineering branch including 18 engineers and engineering technicians

We offer the following engineering services
---
Design of lifting and handling equipment
Recognized standard technology and proprietary products
Project Management
CE marking of equipment according to the Machinery Directive 2006/42/EF (incl. technical file)
Calculations: structural analysis and rigging calculations
Instruction manuals
Risk assessment
3D and 2D drawings
Manufacture of equipment
SAT and FAT: site acceptance test and factory acceptance test

Watch videos of our own product designs
---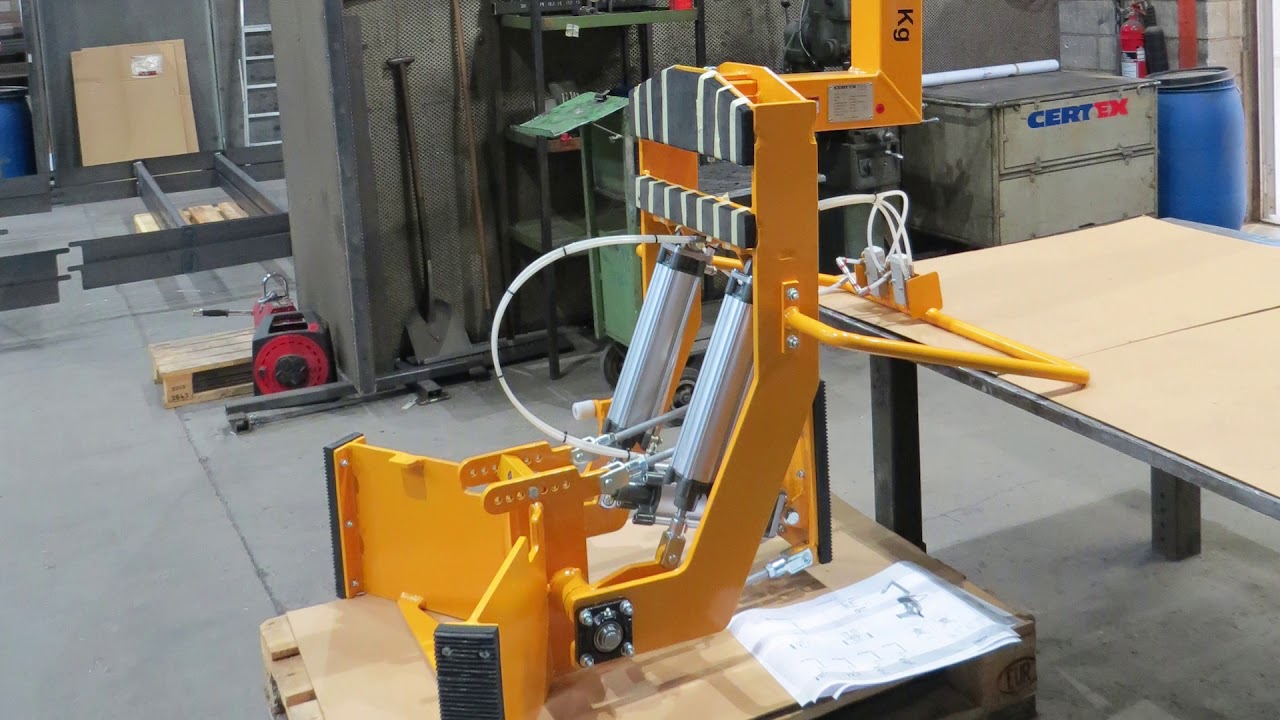 Design and manufacture of lifting equipment
---
Our experienced technical engineers are experts in calculations and they will bring solutions to your most challenging projects. We perform structural analysis (analytical and numerical FEM) and rigging calculations and we are experienced in developing complex mechanical systems and steel structures. Using Solid Works, we are able to generate 3D models, which we use to produce 2D drawings for manufacturing. As crucial part of designing equipment or machines we always do risk assessments and instruction manuals according to the Machinery Directive 2006/42/EF.
We design lifting equipment according to your requirements and standards such as:
EN13155 Cranes, Safety, Non-fixed load lifting attachments
DNVGL-ST-0377 Standard for shipboard lifting appliances
DNVGL-ST-0378 Standard for offshore and platform lifting appliances
DNVGL-ST-E271 Offshore containers
DNVGL-ST-E273 Portable offshore units
ASME American Society of Mechanical Engineers

Crane design
---
We design various types of cranes for the on- and offshore industries. We offer both standard and tailormade solutions. The cranes are designed
according to our customers' requirements and standards such as:
DS/EN 13001-1 and DS/EN 13001-2 General crane design
DS/EN 15011 Bridge and gantry cranes
DS/EN 14985 Slewing jib cranes
DS/EN 13852-1 Offshore cranes

How can we help?
---
Send ud a message and we will get back to you as soon as possible.
[hubspot]
We have the KnowHow required - we call it "The Lifting KnowHow"
CERTEX Danmark A/S carries out inspection of lifting equipment, personal fall protection and cranes.
We carry out break tests and load tests of many types of lifting equipment in our test bench, test tower or with Water Weights.