Why do polyester lifting slings have different colors?
---
Polyester lifting slings are ideal for lifting maneuvers that require lifting equipment that does not damage or weaken the surface of the load.
You have probably noticed that webbing slings and round slings come in many different colors, and there is a reason for that! The color of a sling follows certain guidelines defined by EN 1492-1 (webbing slings) and EN-1492-2 (round slings).
The European standard assigns polyester slings a specific color to identify their working load limit quickly and easily. By following the indications in the table below, you see the maximum working load (WLL) as well as color coding, which are:
1-ton sling = violet
2-ton sling = green
3-ton sling = yellow
4-ton sling = grey
5-ton sling = red
6-ton sling = brown
8-ton sling = blue
10-ton sling and up = orange
In addition to color coding, there are also other ways to indicate the WLL of a polyester lifting sling. The most reliable is via the label of the sling.
Polyester slings must have a blue label sewn on with the statutory marking and information related to it.
A part of this label with duplicate information is stitched under the cover overlap for reference purpose. In the part that remains visible, we find very important data such as manufacturer ID, year of manufacture, material, effective working length (EWL), serial number, number of the European standard and the maximum load limit (WLL).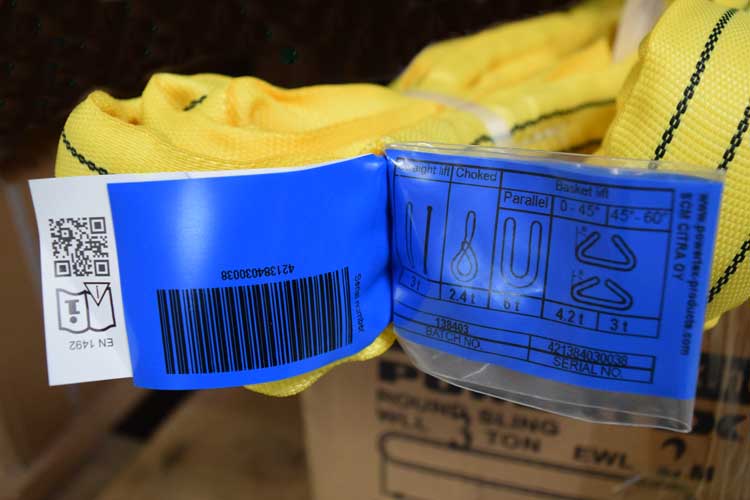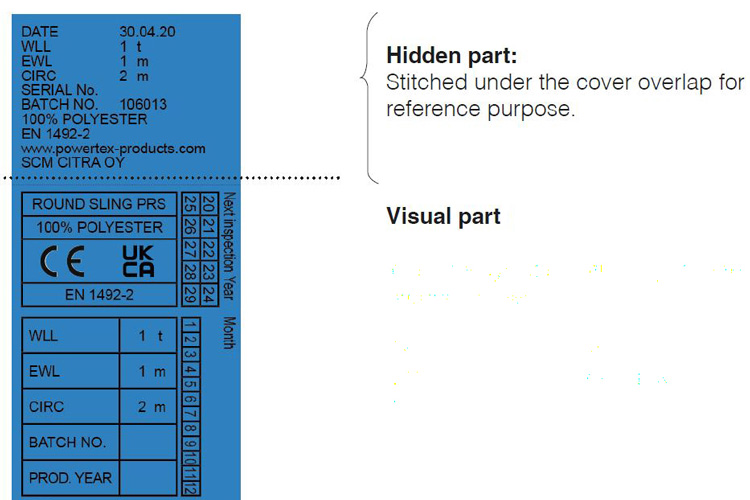 The last and perhaps least known way of indicating WLL, as it is not included in the EN 1492 standard, is the number of black stripes in the webbing material of the sling. In the picture of round sling in all colors you can see one or more continuous black stripes in the webbing material, one black stripe for every ton of the sling in WLL. Slings with WLL of 12 ton and above have no black stripes.
In the load tables you can see both the color code and the load limit in tons (WLL) for the various slings.
Find our POWERTEX webbing slings as well as round slings!

---
Do you have any questions?
If you have any questions, please send us a message and we will be happy to help.
[hubspot]
If you want to know more about using textile lifting slings, you will find useful information in this article.
You can easily wash your synthetic slings, see how here.