Know these factors when working with fall protection equipment
---
The rules state that you who perform work where there is a risk of falling from two meters or more must take protective measures to reduce the risks. These protection measures can either be through collective protection, e.g., work platforms or scaffolding, or through personal fall protection equipment.
To create a safe work situation when working at height, an assessment of the situation must be made before the work begins. This includes a risk analysis and a rescue plan, both of which must be documented and kept by the affected persons. To minimize the risks, work with personal fall protection equipment must never be performed alone.
Risk analysis
A risk analysis assesses all the possible risks that may arise during the work. For the identified risks, measures that eliminate/minimize the risks must also be identified. The risk analysis must also include a rescue plan. The risk analysis what the workplace looks like should be considered, the location and strength of the anchorage point, whether the right equipment is chosen based on the user's competence and experience and that the equipment provides the right ergonomic conditions to minimize discomfort and strain on the user.
Rescue plan
If there is an accident, it is important that rescue takes place within about 15 minutes. If the user is caught in the fall arrest harness, he or she risks getting a hanging trauma, which can lead to serious injuries and, in the worst case, have a fatal outcome. It is therefore important to have a rescue plan, with clear routines for how a quick and safe rescue should be carried out. Before starting work at height, possible measures that can facilitate a safe and effective rescue and avoid a hanging trauma in the event of a fall must be considered.
Inspection
Each time the fall arrest equipment is to be used, it must be checked so that it has no visible damage or broken seams. The fall protection must be checked by a competent person annually or when it has been subjected to abnormal loads. Damaged equipment should never be used but should instead be discarded or returned for repair according to the manufacturer's instructions.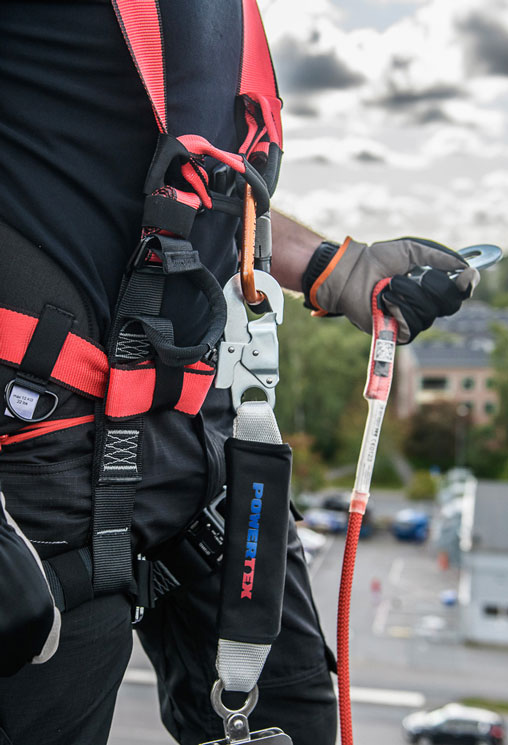 Do you have any questions?
If you have any questions, please send us a message and we will be happy to help.
[hubspot]