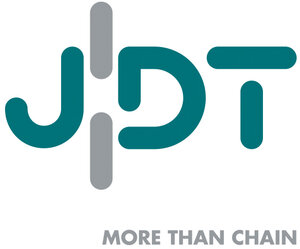 JDT Theile
JDT lifting products and components
---
CERTEX Danmark is your distributor of JDT Theile lifting products and chain components. We offer lifting components and chain in Grade 8, as well as Theile's lifting eyes in Grade 10, also known by the name Theipa.
Theipa lifting eyes
Weld-on lifting devices
Coupling links
Master links
Chain

About JDT Theile
---
JDT Theile is a German company that has been offering top quality products, innovation, performance, availability and customer-oriented service in all areas since 1819.

Today, with around 200 qualified staff, JDT is a leading global manufacturer of complete chain systems and accessories for mining and industry, as well as system integrator of robots in the field of industrial automation.

Contact us for help to find the best lifting eye or master link for your needs.