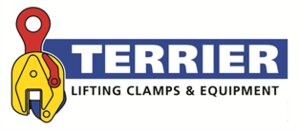 Terrier Lifting Clamps and Equipment – Quality Clamps You Can Trust
For more than 30 years Terrier is a worldwide known brand which stands for high quality lifting solutions and service. Terrier Lifting Clamps BV has six main values they stand for.
Absolute Safety
Terrier Lifting Clamps BV believes absolute safety and safe lifting is their number one priority. All the lifting clamps are tested on up to 2 times the Working Load Limit (WLL). Terrier lifting clamps are designed on a break factor of even 5 times the WLL. Each clamp has red signal colouring on the lifting eye and locking lever for extra safety and is supplied with a test certificate. When using Terrier clamps please make sure to read the safety instructions and the supplied user manual.

Guaranteed Tough Quality Made in Holland
Terrier tough quality lifting clamps guarantee a high performance and a long operational life. They are maintenance-friendly and have "heavy duty" welded shell bodies. The lightweight and streamlined design make them easier to handle. Terrier lifting clamps meet all standards and requirements like: European Norm EN 13155, American Norm ASME B30.20-2010, Australian Norm 4991 and European Machine Directive 2006/42/EC.

Fast and Flexible Delivery and Service
Terrier Lifting Clamps BV guarantees fast and flexible delivery of standard and even special lifting products.
Modern Production, Innovation and Technical Know-how

Terrier lifting clamps has a strong focus on innovation. Can help you with almost every special made clamp or lifting product. The production facilities for the production of Terrier lifting clamps is equipped with very modern machineries for efficient production on a constant high quality level. Engineering and technical know-how is on the highest level according to the latest industry standards and demands