General:
Air chain hoist for loads from 10.000 up to 75.000 kg.
These RED ROOSTER Air Chain Hoists are especially developed for heavy industrial use. Robust cast steel body.

Standard features:
Precise variable speed control (cord- and pendant control).
Optimum control of the load, very precise positioning.
Compact design.
Mechanical endstop system.
Load limiter built-in without loss of headroom.
Cord control or pendant control.
Low noise level.
Air pressure 0,4 - 0,63 MPa (4 - 6,3 Bar).
Optional:
Marine Specification/Corrosion resistant
Paint systems from C2 - Industrial to C5 - Offshore specification (Red finish as standard. Other RAL colours available on request).
Choice of pendants.
Radio control pendant for electro pneumatic controls.
Control systems.
Chain collectors (PVC, galvanised or stainless steel).
Various types of hook or clevis available.
Air supply systems and valves.
Air Service unit.
Piped away exhaust air.
In house design for "specials".
Festoon systems.
Main air shut off valve.
Recommended:
We highly recommend the use of an SMC air treatment unit. (Sold seperatly.)
Type AC50-F10DM-8-B for WLL 10.000 - 20.000 kg.
Type AC60-F10DM-8-B for WLL 25.000 - 75.000 kg.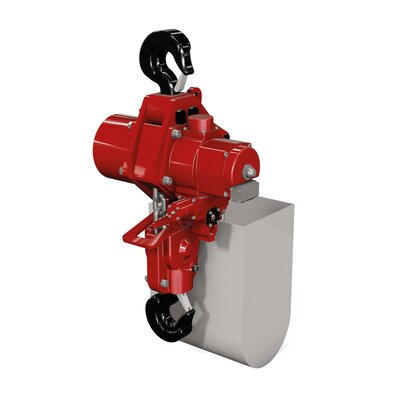 TNC series 10 - 75t air chain hoist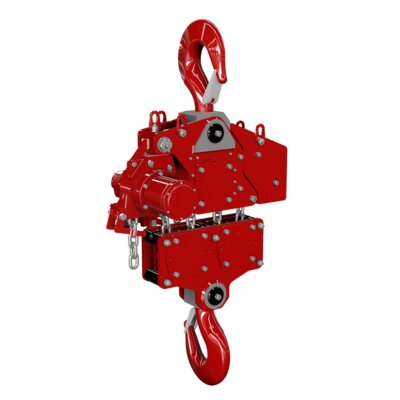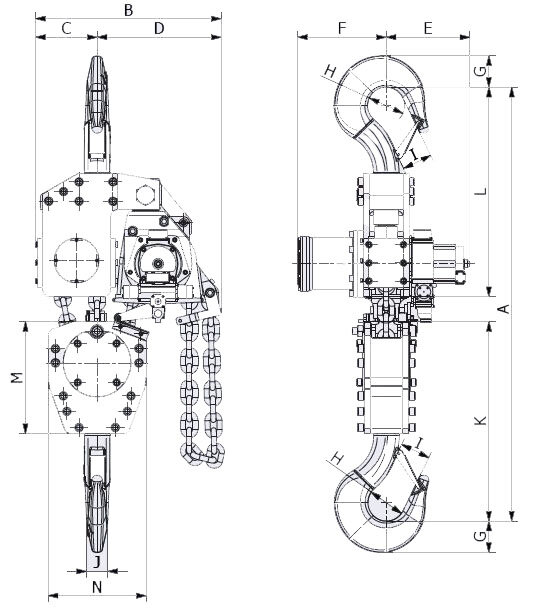 Download CAD

Description
Type

A

B

C

D

E

F

G

Hø

I

J

K

L

M

N

mm

TNC-10TWALC / TNV-10TWALPE

850

467

154

279

313

247

62

60

40

55

345

480

217

202

TNC-15TWC3 / TNC-15TWP3E

1100

676

217

459

312

248

67

84

58

52

441

521

275

395

TNC-20TWC4 / TNC-20TWP4E

1220

789

250

539

313

247

80

110

78

64

493

553

285

530

TNC-25TWLC / TNC-25TWLPE

1400

478

165

313

346

365

103

125

80

82

655

720

375

320

TNC-37.5TWC3 / TNC-37.5TWP3E

1765

767

255

523

346

366

118

125

90

95

808

855

463

405

TNC-50TWHC4 / TNC 50TWHP4E

2083

1276

603

673

346

366

132

140

100

106

926

1018

550

800

TNC-50TWSHC4 / TNC-50TWSHP4E

2160

1276

603

673

346

366

65

180

105

65

990

1000

550

800

TNC-75TWP(D)6E / TNC-75TWP(D)6E

measurement on request