General:
Mini Air chain hoist for loads from 125 up to 500 kg.
The RED ROOSTER Mini Air Chain Hoists are besides industrial use also very suitable for "Material Handling". Due to the low weight these hoists are very suitable for service applications. Special for use in tank cleaning installations we recommend stainless steel chain.
Precise variable speed control (cord - and pendant control).
Very compact design.
Robust aluminum housing.
Air motor is cooled by the exhaust air (internal).
Cord control or pendant control.
Low noise level.
Mechanical endstop system.

Optional:
Marine Specification/Corrosion resistant
Paint systems from C2 - Industrial to C5 - Offshore specification (Red finish as standard. Other RAL colours available on request).
Choice of pendants.
Radio control pendant for electro pneumatic controls.
Control systems.
Chain collectors (PVC, galvanised or stainless steel).
Various types of hook or clevis available.
Air supply systems and valves.
Air Service unit.
Piped away exhaust air.
In house design for "specials".
Festoon systems.
Main air shut off valve.

Recommended:
We highly recommend the use of an SMC air treatment unit.
Type AC30-F03DM-8-B. (Sold separately.)
Features: - Low weight and therefore very mobile, easy mounting.
Mini air chain hoist TCR series 0,125 ton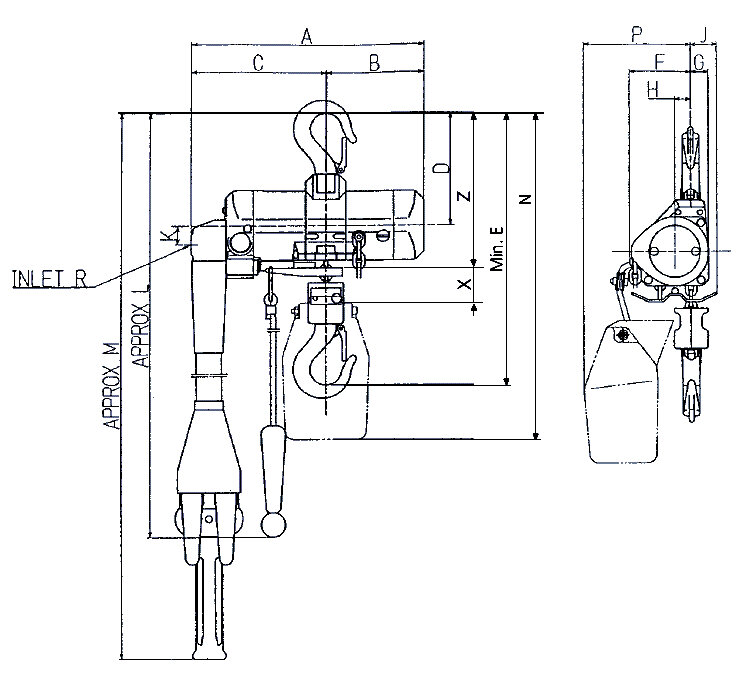 Download CAD

Description
| | | | | | | | | | | | | | | | | | |
| --- | --- | --- | --- | --- | --- | --- | --- | --- | --- | --- | --- | --- | --- | --- | --- | --- | --- |
| Type | A | B | C | D | E | F | G | H | J | K | L | M | N | P | R | X | Z |
| | mm | | | | | | | | | | | | | | | | |
| TCR-125C | 249 | 112 | 137 | 130 | 305 | 71 | 21 | 19 | 33 | - | 1660 | - | 375 | 124 | P/T 3/8 | 40 | 170 |
| TCR-125DPE | 286 | 112 | 174 | 130 | 305 | 71 | 21 | 19 | 33 | 21 | - | 2310 | 375 | 124 | P/T 3/8 | 40 | 170 |